Please E-mail suggested additions, comments and/or corrections to Kent@MoreLaw.Com.
Help support the publication of case reports on MoreLaw
Date: 01-30-2018
Case Style:
Angela Johnson Musa v. Dr. Carrie Miles and Dr. Joseph Elia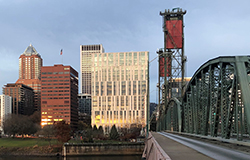 Multnomah County Courthouse - Portland, Oregon
Case Number:
Judge: Karin Immergut
Court: Circuit Court, Multnomah County, Oregon
Plaintiff's Attorney: Erin Olson and Bill Barton
Defendant's Attorney: John Hart
Description: Portland, OR - Jury Finds In Favor Of Doctor In Medical Malpractice Case

Angela Johnson Musa sued Dr. Carrie Miles and Dr. Joseph Elia on medical malpractice theories claiming that the doctors provided substandard care to her during her pregnancy and post partum with the result that she was not tested for herpes before delivery of her son at Legacy Good Samaritan Medical Center in Portland and, as a direct result, her son was infected with the disease. She also claimed that the fact that he was infected was not diagnosed and treated post partum with the result that he suffered brain damage.

Dr. Miles denied wrongdoing.
Outcome: Dr. Joseph Elia settled for an undisclosed sum before trail and the jury returned a defendant's verdict in favor of Dr. Miles.
Plaintiff's Experts:
Defendant's Experts:
Comments: