Please E-mail suggested additions, comments and/or corrections to Kent@MoreLaw.Com.
Help support the publication of case reports on MoreLaw
Date: 04-20-2017
Case Style:
United States of America v. Marlin Caceres-Guerrero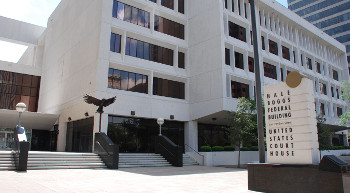 Federal Courthouse - New Orleans, Louisiana
Case Number: 2:17-cr-00045-ILRL-JCW
Judge: Ivan L.R. Lemelle
Court: United States District Court for the Eastern District of Louisiana (Orleans Parish)
Plaintiff's Attorney: Jon Michael Maestri
Defendant's Attorney: Jerrod Edward Thompson-Hicks
Description: New Orleans, LA - Honduran National Pleads Guilty to Illegal Reentry

Marlin Caceres-Guerrero, age 26, a native of Honduras, pled guilty to a one-count Indictment charging him with illegal entry of a removed alien.

According to the court documents, CACERES-GUERRERO was previously removed from the United States on May 3, 2013. He was later found in the Eastern District of Louisiana on February 21, 2017, and had not received permission from the Attorney General of the United States or the Secretary of the Department of Homeland Security to reenter.

CACERES-GUERRERO faces a maximum term of imprisonment of two years, a fine of $250,000, one year of supervised release, and a $100 special assessment fee.
Outcome: Guilty
Plaintiff's Experts:
Defendant's Experts:
Comments: Editor's Comment: The usual punishment for re-entry is time served and deportation.