Texas Abandonment Law
Erik Catorce Madrid v. The State of Texas
Court of Appeals First District
At trial, Officer R. Carter of the Houston Police Department ("HPD") testified
that he encountered Madrid driving his truck on the highway while en route to HPD's
central intoxication facility ("central intox") with another person Carter had just
arrested for driving while intoxicated. Carter followed Madrid's truck in the
highway's left lane and pulled Madrid over after pacin... More...

$0 (05-20-2017 - TX)


Johnson Kidz, Inc. v. Vertex Community Bank, N.A.
Appellant Johnson Kidz, Inc. ("Kidz"), the tenant of commercial property owned by
appellee Veritex Community Bank, N.A. ("Veritex"), sued Veritex after the property became
uninhabitable due to vandalism. Veritex answered asserting various affirmative defenses and
conditionally counter sued Kidz for breach of contract and Kidz's owner, Nelson Johnson, for
breach of a guaranty agreem... More...

$0 (05-15-2017 - TX)


ERIK CATORCE MADRID v. THE STATE OF TEXAS
Court of Appeals For The First District of Texas
At trial, Officer R. Carter of the Houston Police Department ("HPD") testified
that he encountered Madrid driving his truck on the highway while en route to HPD's
central intoxication facility ("central intox") with another person Carter had just
arrested for driving while intoxicated. Carter followed Madrid's truck in the
highway's left lane and pulled Madrid over after pacin... More...

$0 (05-04-2017 - TX)


In the Interest of R.L., a/k/a RC, a/k/a R.M. and R.L., children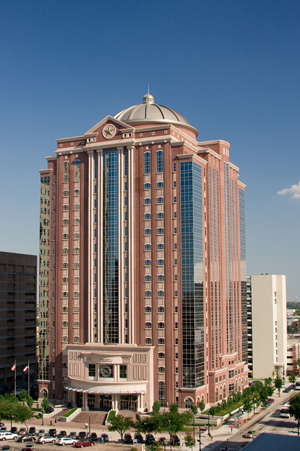 Harris County Courthouse - Houston, Texas
In these accelerated appeals,2 appellant, T.H.L., challenges the trial court's orders, entered after a bench trial, awarding the Department of Family and Protective Services ("DFPS") permanent managing conservatorship of her four minor children, R.C.,3 R.L., C.J., and C.C.J. (collectively, "the children").4 In her sole issue, T.H.L. contends that the trial court erred in appointing DFPS as the chi... More...

$0 (04-21-2017 - TX)


Jerry Cotten, et aux. v. Ron Briley, et al.
When Jerry and Rosemary Cotten's newly-purchased retirement home began exhibiting substantial problems of which they were unaware when they purchased it, the Cottens filed suit against the persons who sold it to them (Ron and Jeri Briley), the sellers' real estate agent (Judy Stroman), the broker under whom the agent worked (Century 21 Lake Country), and the home inspector who was retained to insp... More...

$0 (03-16-2017 - TX)


Emanuel D. Hayes v. The State of Texas
On November 6, 2013, six young people—appellant, Darion Amos,
"Marcus," "Zae," and two girls—knocked on the door of 78-year-old Richard
Chandler, forced their way into his apartment when Chandler opened the door, and
stole several items, including a computer tablet, keys to a truck, and a gold ring
that Mr. Chandler usually wore.
During the home invasion, Chandler was kn... More...

$0 (03-11-2017 - TX)


Josephine Douglas-Peters v. Cho, Choe & Holden, P.C.
Josephine Douglas-Peters1 appeals the trial court's final judgment in favor of Forest Law, P.C. d/b/a Cho, Choe & Holen, P.C.,2 as assignee of Choe, Holen, Yoo & Burchfiel, P.C.,3 on its claim against Douglas-Peters for breach of a legal representation retainer agreement and awarding it $90,453.21 in damages. Douglas-Peters raises four issues on appeal, arguing: (1) the evidence is legally and fac... More...

$0 (03-03-2017 - TX)


Rafael Montez Da Oca v. Eduardo Gutierrez
Rafael Montez Da Oca appeals the trial court's final judgment against him for damages
resulting from his alleged wrongful conduct as the landlord under a commercial-lease agreement
with appellee Eduardo Gutierrez. Da Oca challenges the sufficiency of the evidence supporting
various jury findings. For the following reasons, we will affirm the trial court's final judgment.
BACKGROUND... More...

$0 (01-25-2017 - TX)


Lonnie Delmar Gadson v. The State of Texas
MoreLaw Receptionist Services
Never Miss Another Call With MoreLaw's Receptionists Answering Your Calls
This case arises from a high speed police chase of Appellant during which he struck a
police cruiser with his pickup truck, not once, but twice. Officer William Rogers was inside the
police cruiser at the time of the first impact, but was just outside the cruiser when the second
impact occurred. Following Appellant's eventual apprehension, the State charged him with
aggravate... More...

$0 (03-01-2017 - TX)


Melvin Straight v. The State of Texas
Officer Grossbard was patrolling for suspicious activity in a high crime area in Houston, Texas, where he saw appellant walking in the street. Appellant walked up to the outside of a gate in front of an apartment complex, and another man walked up to the inside of the gate. They looked around and "did some type of hand-to-hand exchange" through the bars of the fence. Seeing this exchange, Grossbar... More...

$0 (02-22-2017 - TX)


Harris County and Texas Commission on Environmental Quality v. International Paper Company
There are five dates or date ranges that are significant in this litigation. We
will give first an overview of their importance and then discuss each in more detail.
Next, we will provide an overview of the parties' trial theories and discuss the key
rulings made by the trial court related to experts and the jury charge.

A. Significant historical dates

The first ... More...

$0 (11-15-2016 - TX)


Jose Antonio Perez v. The State of Texas
In 2012, appellant was charged under an indictment that alleged he did:
unlawfully then and there intentionally and knowingly cause the contact and penetration of the female sexual organ of [A.P.], a child, who was not then the spouse of defendant, by an object, to-wit: the sexual organ of said defendant, and, at the time of the offense, the child was younger than 14 years of age.

... More...

$0 (10-04-2016 - TX)


E.F. Johnson Company v. Infinity Global Technology f/k/a Infinity Gear and Technology, LLC, et al.
Kirmuss operated an electronics business that specialized in radio-related products. In
2007, at a trade show in Hong Kong, he discovered a speaker microphone with a built-in global
positioning system (the GPS-Mic), manufactured by Wintectronics (Wintec). Kirmuss believed
the GPS-Mic could transform communications for first responders and military units, so he
arranged to mee... More...

$0 (10-03-2016 - TX)


Jared Assavedo v. The State of Texas
Appellant was indicted for intentionally, knowingly, and recklessly causing serious
bodily injury to Claudia Lopez by striking a motor vehicle owned and operated by Lopez with a
–2–
motor vehicle operated by appellant and by forcing Lopez's motor vehicle from the roadway. He
was also indicted for intentionally, knowingly, recklessly, and with criminal negligence engaging
... More...

$0 (08-04-2016 - TX)


Ronicesha Cherron Wearren v. The State of Texas
Under a legal-sufficiency standard of review, appellate courts view the evidence in
the light most favorable to the verdict and determine whether "any rational trier of fact could
have found the essential elements of the crime beyond a reasonable doubt." Jackson v. Virginia,
443 U.S. 307, 319 (1979). When performing this review, an appellate court must bear in mind that
it is the... More...

$0 (07-18-2016 - TX)


Christopher Darrell Jefferson v. The State of Texas
The indictment against appellant alleged in part that on or about January 29, 2013, he did:
unlawfully then and there intentionally cause the death of LATOYA MCGOWAN, an individual, hereinafter called deceased, by SHOOTING THE DECEASED WITH A FIREARM, A DEADLY WEAPON, and the defendant was then and there in the course of committing and attempting to commit the offense of BURGLARY of said dece... More...

$0 (07-12-2016 - TX)


Travis Marcellaus Edwards v. The State of Texas
A jury found appellant, Travis Marcellaus Edwards, guilty of the offenses of
aggravated assault of a security officer,1 aggravated robbery,2 and unlawful
possession of a firearm by a felon.3 After finding true the allegation in an
enhancement paragraph in each indictment that appellant had been previously
convicted of a felony offense, the trial court assessed his punishment a... More...

$0 (06-23-2016 - TX)


Jeffery Wayne Batson v. The State of Texas
On January 2, 2014, Appellant became involved in an altercation with his wife, Kimberly Batson. At trial, Kimberly testified that Appellant had been drinking, was not in a good mood, became angry that she had not prepared dinner, and began pushing and punching her. Adellah Batson, the daughter of Appellant and Kimberly, became upset. When Kimberly attempted to console Adellah, Appellant kicked ... More...

$0 (06-17-2016 - TX)


Tahronda Shanell White v. The State of Texas
Appellant was employed at a cell phone provider kiosk in a local grocery store in
Brownfield, Texas. The grocery store's security camera footage shows appellant take
the till out from within the cabinet door and count the money on July 21, 2014. As she
counted and appeared to fill out paperwork, she also appeared to be doing some sort of
computer work. She placed what appear... More...

$0 (05-11-2016 - TX)


Victor Lamar Jenkins v. The State of Texas
Appellant originally pleaded not guilty to aggravated robbery with a deadly weapon. At a pretrial hearing on October 8, 2014, both sides announced they were ready to proceed to trial. At that hearing, the State offered a plea bargain with a recommendation of six years' confinement in the Texas Department of Corrections, which appellant rejected. The judge admonished appellant that he was charged w... More...

$0 (05-03-2016 - TX)


Narjes Modarresi v. The State of Texas
At the time of the offense, appellant and her husband, Amir Golabbakhsh ("Amir"), lived in Houston with their two children, Masih and a three-year-old son, and Amir's parents. On the afternoon of April 21, 2010, while the men were away from home, appellant told her mother-in-law that appellant was taking Masih to visit appellant's friend. Appellant left on foot with Masih in a stroller. The mot... More...

$0 (04-20-2016 - TX)


Alberto Aguirre Rendon v. The State of Texas
In this appeal, initially, Appellant Alberto Aguirre Rendon had court-appointed counsel.
Later, after the trial court determined Appellant was not indigent, the trial court discharged
appointed counsel. Appointed counsel advised Appellant that his brief was due on February 22,
2016. See TEX. R. APP. P. 6.5(c). After the deadline to file the brief passed and Appellant did not More...

$0 (04-20-2016 - TX)


Xavier Barac Lopez a/k/a Xavier Lopez v. The State of Texas
Octavio Arriaga, a witness for the State, testified that he was the manager of a
Dairy Queen where appellant worked and that appellant's responsibilities included,
among other things, cleaning the bathrooms of the Dairy Queen. Arriaga stated that one
evening after the store closed, he found an iPod in the men's bathroom, and when he
"opened" the iPod to determine its ownership... More...

$0 (03-24-2016 - TX)


Morris Alexander Wise v. The State of Texas
The evidence at the suppression hearing showed that on September 15, 2011, two
police officers boarded a Greyhound bus at a pit stop to conduct a drug interdiction while
other officers stayed outside. The two officers inside the bus were not wearing police
uniform and did not display a police badge or a weapon. One officer approached Wise
and asked in a conversational tone if... More...

$0 (03-03-2016 - TX)


John Steen v. The State of Texas
On February 12, 2013, Steen was charged by indictment with three offenses of
aggravated sexual assault of a child and one offense of indecency of a child. See id. §
22.021(a)(B) (West, Westlaw through 2015 R.S.); id. § 21.11.1 The State gave notice,
prior to trial, of its intent to use evidence of extraneous sexual assault offenses against
Steen.
Prior to a consolidat... More...

$0 (02-18-2016 - TX)


George Washington Sharper v. The State of Texas
After a Hunt County jury found George Washington Sharper guilty of the capital murder
of David Olivares, the trial court sentenced him to the mandatory punishment of life imprisonment
without parole.1 Sharper appealed to this Court, asserting that the trial court erred (1) in admitting
the out-of-court statement of his alleged accomplice in violation of his right to confront and cr... More...

$0 (02-04-2016 - TX)


RAILROAD COMMISSION OF TEXAS v. GULF ENERGY EXPLORATION CORPORATION
This case arises out of the Commission's duties with respect to abandoned oil-and-gas
wells, which are governed by Texas Natural Resources Code chapter 89. One of the statute's
express purposes is to protect Texas's water and land from pollution by providing "additional
means" for the plugging of abandoned wells. TEX. NAT. RES. CODE § 89.001. The statute and
accompanying Com... More...

$0 (01-29-2016 - TX)


Petrohawk Properties, L.P., and P-H Energy, L.L.C. v. Noel Diane Jones, et al.
In 2008, oil and gas companies descended on east Texas and Louisiana seeking to acquire
leases to exploit the Haynesville Shale formation, which they viewed as having enormous
potential. The atmosphere created by these companies was described as "unreal," "a land rush,"
and comparable to a gold rush. David Deffenbaugh, Petrohawk Properties, L.P.'s, vice president
of land—midc... More...

$0 (01-25-2016 - TX)


IN RE RSR CORPORATION AND QUEMETCO METALS LIMITED, INC., RELATORS
This original proceeding concerns whether the trial court abused its discretion by
disqualifying plaintiffs' counsel because they "worked so closely" with a defendant's former finance
manager. Treating the finance manager like a side-switching paralegal, the trial court applied In re
American Home Products Corp., 985 S.W.2d 68 (Tex. 1998) (orig. proceeding), and found
plaintiffs' ... More...

$0 (12-04-2015 - TX)


American Homeowner Pres. Fund, LP v. Pirkle
In three issues, Appellant American Homeowner Preservation Fund, LP (American) appeals a judgment declaring null and void its lien on property *2purchased by Appellee Brian J. Pirkle at a tax-foreclosure sale, declaring null and void a note executed by Cathy Lewis1 and secured by the property, dismissing American's constitutional takings claims against the taxing authorities involved in the forecl... More...

$0 (11-28-2015 - TX)


In the Interest of J.N.G., a Child
Appellant P.N.P. appeals the trial court's final decree terminating her
parental rights, and appointing the Department of Family and Protective Services
(the "Department") as sole managing conservator of J.N.G. ("Jane").1 In two issues
appellant challenges the legal and factual sufficiency of the evidence to support the
trial court's findings under sections 161.003 and 161.001(E) o... More...

$0 (09-24-2015 - TX)


In the Interest of J.R.S.
B.J.D. appeals the trial court's order terminating his parental rights to minor child J.R.S. In his sole issue on appeal, B.J.D. asserts the evidence was neither legally nor factually sufficient for the trial court to find by clear and convincing evidence that terminating his parental rights was in J.R.S.'s best interests. We conclude the evidence is both legally and factually sufficient, and we a... More...

$0 (09-23-2015 - TX)


In the Interest of J.N.G., a Child
Appellant P.N.P. appeals the trial court's final decree terminating her
parental rights, and appointing the Department of Family and Protective Services
(the "Department") as sole managing conservator of J.N.G. ("Jane").1 In two issues
appellant challenges the legal and factual sufficiency of the evidence to support the
trial court's findings under sections 161.003 and 161.001(E) o... More...

$0 (09-24-2015 - TX)


American Homeowner Preservation Fund, LP v. Brian J. Pirkle, Tarrant County, Tarrant County Hospital District, City of Sansom Park, and Tarrant County Community College District
In three issues, Appellant American Homeowner Preservation Fund, LP (American) appeals a judgment declaring null and void its lien on property
2
purchased by Appellee Brian J. Pirkle at a tax-foreclosure sale, declaring null and void a note executed by Cathy Lewis1 and secured by the property, dismissing American's constitutional takings claims against the taxing authorities involved in th... More...

$0 (09-03-2015 - TX)


Feysal Ayati-Ghaffari and Irana Hagnazari v. Hazawiperi Jackie Gumbodete and Jose Anaya
Hazwiperi Jackie Gumbodete and Jose Anaya ("appellees" or "plaintiffs") filed this lawsuit in the trial court below against Feysal Ayati-Ghaffari and Irana Hagnazari ("appellants" or "defendants") seeking damages for loss of personal property allegedly caused by appellants. After considering appellees' motion for summary judgment, the trial court signed a "Final Summary Judgment" granting appellee... More...

$0 (07-23-2015 - TX)


In the Interest of D. V., a Child
This is an appeal from an order terminating the parent-child relationship between D.V. and his mother. The relationship between the little boy and his father was also terminated, but the father has not appealed. Because of recurrent family violence between the parents, we will refer to Father's behavior where necessary to explain the factual circumstances.1
Mother brings seven issues for rev... More...

$0 (06-03-2015 - TX)


Marissol Ochoa Sierra and Emilio Chapa Trevino v. City of Pharr
This is an accelerated, interlocutory appeal involving a suit brought by appellants Marissol Ochoa Sierra and her spouse Emilio Chapa Trevino in connection with an allegedly wrongful sale of a 2010 Cadillac Escalade by appellee the City of Pharr (the
2
City). Sierra and Trevino appeal the trial court's grant of the City's plea to the jurisdiction. In its plea, the City argued that the tr... More...

$0 (05-21-2015 - TX)


Wesley Schreiber, as Trustee for the Schreiber Family Trust v. Sam Cole and Wendy Cole
Appellant, Wesley Schreiber, as Trustee for the Schreiber Family Trust, appeals from a judgment in favor of Appellees, Sam Cole and Wendy Cole, in a landlord-tenant dispute brought by Appellees, as tenants, seeking damages and civil penalties pursuant
2
to section 92.00811 of the Texas Property Code for an allegedly unlawful lockout by Appellant, as landlord. Appellees also sought recovery... More...

$0 (05-19-2015 - TX)


In the Int of MC, MC, MC, MC, and MC, Children
Appellant father ("Father") and appellant mother ("Mother") separately appeal the trial court's order terminating their parental rights to their five children. On appeal, neither parent challenges the sufficiency of the evidence to support the trial court's findings relating to the statutory grounds for termination. Rather, both contend the evidence is legally and factually insufficien... More...

$0 (05-18-2015 - TX)


Eric Drake v. Consumers County Mutual Insurance, and Travelers Indemnity Company
Eric Drake appeals the trial court's order granting summary judgment. In ten issues Drake challenges the authority of various judges who determined motions in the case, arguing they lacked authority to rule on the matters they considered. He also maintains the trial court's ultimate determination that the statute of limitations barred his claims was incorrect. We affirm the judgment of the tri... More...

$0 (05-08-2015 - TX)