Kansas Real Property Law
STATE OF KANSAS v. GARRETT PRESLEY KRAFT
The underlying facts supporting the criminal charges are taken from the affidavit of probable cause filed with the district court. On May 12, 2016, Haley Fryback went to the hospital after Kraft physically abused her during an argument in their mutual home. Fryback reported that Kraft hit, choked, and kicked her in the throat. He also prevented her from leaving the residence when he locked her key... More...

$0 (04-21-2018 - KS)


STATE OF KANSAS v. TRAVIS P. ODOM
Rape and aggravated indecent liberties with a child
Though Odom's brief provides a limited sketch of the underlying facts, the circumstances prompting the State to charge Odom with four counts of rape and one count of aggravated indecent liberties with a child are immaterial for purposes of resolving Odom's issues on appeal. This court need only to address the procedural history of the case to provide a background for the legal challenges Odom rais... More...

$0 (04-21-2018 - KS)


STATE OF KANSAS v. LEROY K. BRIGGS
Leroy K. Briggs appeals from what he claims to be an erroneously imposed sentence. He argues that the sentencing court erred in classifying his two prior Missouri convictions for resisting or interfering with arrest under Mo. Rev. Stat. § 575.150 (2000 and 2012 Supp.) as person offenses for criminal history purposes. The sentencing court based its ruling on its determination that the Missouri cr... More...

$0 (04-20-2018 - KS)


STATE OF KANSAS v. TIMOTHY P. YOUNG
Young was charged with possession of more than 25 grams but less than 450 grams of marijuana with the intent to distribute (a severity level 3 drug nonperson felony); possession of marijuana; no drug tax stamp; possession of drug paraphernalia; driving while his license was canceled, suspended, or revoked; and driving while a habitual violator. Young pled no contest to possession of less than 25 g... More...

$0 (04-18-2018 - KS)


STATE OF KANSAS v. SHANE TRAVERS GARRETT
Garrett does not claim the district court erred in treating his California crime as a felony. He limits his argument to whether his California crime should be treated as a person crime. He claims that Kansas does not have a comparable burglary statute, so his California conviction must be classified as a nonperson crime.

Garrett raises an issue of statutory interpretation under the Ka... More...

$0 (04-18-2018 - KS)


STATE OF KANSAS v. BRANDON R. WILLIAMS
On the morning of December 12, 2015, Jordan Ray left his residence in Wichita to go to work. At about 11 a.m., Ray received a phone call from Williams. Williams and Ray had known each other for about 10 years. Although Williams and Ray were not friends, Williams had visited Ray's residence on multiple occasions to play video games. Ray returned Williams' call and Williams said he had left a shirt ... More...

$0 (04-18-2018 - KS)


STATE OF KANSAS v. HERSHEL A. KEMP
A jury sitting in Lyon County District Court convicted Defendant Hershel A. Kemp of committing multiple sex crimes, including several off-grid felonies, against K.R., his wife's minor daughter. Kemp has appealed, claiming numerous errors in the eight-day trial. Although Kemp received something short of a perfect trial, we find he received a fair trial, and the law requires no more than that. See... More...

$0 (04-17-2018 - KS)


STATE OF KANSAS v. GERARDO G. SAUCEDO
Saucedo's prior Washington felony conviction was for a residential burglary under Wash. Rev. Code Ann. § 9A.52.025(1). On appeal he argues that the district court erred in classifying this prior conviction as a person felony. He claims that because two elements of the Washington conviction are broader than the elements of the comparable Kansas crime, the district court engaged in improper judicial... More...

$0 (04-17-2018 - KS)


STATE OF KANSAS v. PRESTON DE'JHAN DEAN
Dean and Devina Johnson were in a relationship. Dean went to Johnson's apartment late one evening in March 2015. She was asleep when he arrived, but Johnson left her apartment door unlocked for Dean. After entering the apartment, Dean noticed a missed call on Johnson's phone. It was from the father of her children. This angered Dean because he was concerned that Johnson was sending him money. Dean... More...

$0 (04-17-2018 - KS)


RAKESH SRIVASTAVA and SHARMILA SHANKAR, Appellants, v. UNIVERSITY OF KANSAS, a/k/a UNIVERSITY OF KANSAS MEDICAL CENTER, a/k/a STATE OF KANSAS (HARTMUT JAESCHKE, CODY TULLY, PAUL TERRANOVA, and ROY JENSEN
University of Kansas
Dr. Rakesh Srivastava and Dr. Sharmila Shankar, who are husband and wife, both worked for the University of Kansas Medical Center (KUMC). For different reasons, KUMC terminated Dr. Srivastava's and Dr. Shankar's employment. Believing that they were wrongfully terminated, Dr. Srivastava and Dr. Shankar sued University of Kansas (KU), as the institutional organization governing KUMC. Later, howeve... More...

$0 (04-14-2018 - KS)


STATE OF KANSAS v. ETHAN D. BENNETT
Beginning in January 2016, the Clay County Sheriff's Department began conducting trash pulls and surveilling a residence in Clay Center. Cassie Kerr lived there with her husband, Greg Baxter, and her father, Kenneth Baker. During this time, the department received complaints and information about that residence and observed much traffic in and out of the home. On February 19, 2016, the sheriff's d... More...

$0 (04-14-2018 - KS)


STATE OF KANSAS v. KAREN J. CANNON
Karen J. Cannon appeals claiming her criminal history was improperly calculated after her guilty plea to enhance her sentence. Upon review, we agree with Cannon. The district court improperly scored her prior Illinois robbery conviction as a person felony. We vacate the sentence and remand for the district court to score her prior Illinois robbery conviction as a nonperson felony.

2 More...

$0 (04-14-2018 - KS)


STATE OF KANSAS v. SCOTT HARRIS KOBEL
On July 14, 2013, the State charged Kobel with aggravated kidnapping, rape, and attempted rape. Pursuant to a plea agreement, the State submitted an amended information, charging Kobel with aggravated battery, a severity level 4 person felony. The agreement was for Kobel to plead guilty to the amended information and, believing his criminal history score was A, the State would not oppose or reques... More...

$0 (04-14-2018 - KS)


STATE OF KANSAS v. JONATHAN PAUL JOHNSON
In April 2015, the State initially charged Johnson with four counts of harassment by telephone based on voice messages and emails sent to his father in February and March of 2015. In July 2015, the State filed an amended complaint, amending the charges to misdemeanor stalking and adding two counts of felony criminal threat and one count of felony stalking. These charges were the result of Jonathan... More...

$0 (04-14-2018 - KS)


STATE OF KANSAS v. PATRICK A. MEEKS
Patrick Meeks pleaded guilty to one count of felony theft over $1,000 but less than $24,999 for the theft of a vehicle belonging to Monica and Christopher Taylor. Meeks borrowed the vehicle with permission but never returned it. He asserted that the vehicle was stolen from him and never recovered.

At the time the vehicle was stolen, its fair market value was $13,856.21, but there was a... More...

$0 (04-14-2018 - KS)


STATE OF KANSAS v. SHEENA THOMAS
A jury convicted exotic dancer Sheena Thomas of one count of aggravated battery with a deadly weapon against her fellow dancer, Traci Borntrager. The attack occurred at an establishment called Pleasures, the two women's place of work. The weapon in question—a stiletto heel—was an accoutrement of the trade. Following her conviction, the district court sentenced Thomas to serve 24 months' probation ... More...

$0 (04-14-2018 - KS)


STATE OF KANSAS v. JOSHUA LARON BROOKS
On April 24, 2015, Brooks pled guilty to one count of domestic battery, a nongrid person felony, in violation of K.S.A. 2013 Supp. 21-5414(b)(3). On June 3, 2015, the district court sentenced Brooks to 12 months in jail and granted probation for 12 months.

At a hearing on August 2, 2016, Brooks admitted to violating his probation by failing to report to his intensive supervision office... More...

$0 (04-07-2018 - KS)


STATE OF KANSAS v. LARRY G. LEDOUX
In December 2016, Ledoux pled guilty in the Johnson County District Court to a single charge of burglary of a dwelling committed in May 2013. About a month after the plea, the district court sentenced him to serve a mitigated 30-month prison sentence and 12 months of postrelease supervision. Ledoux's sentence was based on his new severity level 7 person felony conviction and the category A crimina... More...

$0 (04-07-2018 - KS)


STATE OF KANSAS v. TOMAS GARCIA JR.
The facts underlying this case were established at the evidentiary hearing on Garcia's motion to suppress by Master Deputy Brad Clover from the Douglas County Sheriff's Office. He testified that he responded to a report of a suspicious vehicle outside of Lawrence, Kansas, in the early morning hours on January 2, 2016. At about 3 a.m., an identified caller reported that a sedan had pulled into her ... More...

$0 (04-07-2018 - KS)


STATE OF KANSAS v. DANA L. CHANDLER
Case Video
Mike Sisco and Karen Harkness were found dead in Karen's Topeka home about 2 p.m. on July 7, 2002. Both were shot at least five times. They were in bed as the shooting began.

There was no evidence anything was missing. When the bodies were discovered, Karen was wearing jewelry, including a diamond bracelet, a Rolex watch, and a gold ring. Mike's wallet was in his shorts. It contained tw... More...

$0 (04-07-2018 - KS)


STATE OF KANSAS v. JOAQUIN ALFONSO DEANDA
In 2008, Garden City police discovered a 16-year-old girl's body in a trash dumpster behind the house where 17-year-old DeAnda lived with his mother. The State charged DeAnda with first-degree murder, rape, and aggravated criminal sodomy. Before trial, DeAnda agreed to plead guilty to first-degree premeditated murder in exchange for the State dismissing the remaining charges. The district court ac... More...

$0 (04-02-2018 - KS)


THE SAUNDERS GROUP L.L.C. v. KAW VALLEY STATE BANK
The Saunders Group L.L.C. (Saunders) raises two issues on appeal: (1) whether the district court erred in dismissing Saunders' petition, and (2) whether the district court erred in assessing a $250 fine to Saunders' attorney. We affirm the district court based on Saunders' utter abandonment of these claims of error on appeal.

The facts are well known to the parties and their attorneys ... More...

$0 (04-02-2018 - KS)


STATE OF KANSAS v. BRIAN MONZON
Brian Monzon pled guilty to a residential burglary which involved Monzon and one of his codefendants breaking a window to gain entry into the house and damaging furnishings after gaining entry. The district court ultimately sentenced Monzon to 24 months' probation with an underlying prison term of 15 months based on a criminal history that included Monzon's prior juvenile adjudications. The court ... More...

$0 (04-02-2018 - KS)


STATE OF KANSAS v. CLINTON KEITH EVANS
Law enforcement officers in Ellis County received a report of a domestic dispute at the residence of Clinton Keith Evans between Evans and his live-in girlfriend, Jessica Sain. When officers arrived at the house, Evans—who was naked at the time—drove his car backwards into a tree and fled to his neighbor's house. Officers later arrested Evans and, as they spoke with his roommates, noticed the st... More...

$0 (04-01-2018 - KS)


STATE OF KANSAS v. JAMES K. KAHLER
A recitation of some family history preceding the murders is necessary to put Kahler's crimes in context. In 2008, the Kahler family—husband, Kahler; wife, Karen; teenage daughters, Emily and Lauren; and 9-year-old son, Sean—was living in Weatherford, Texas. Kahler was the director of the public utilities department, and Karen was a personal trainer. Both adults had successful careers. Acquaintanc... More...

$0 (03-31-2018 - KS)


STATE OF KANSAS v. JAMIE ZINNEL
In 2016 Zinnel pled no contest to one count of burglary under K.S.A. 2015 Supp. 21-5807(a)(2), (c)(1)(B), a severity level 7 nonperson felony. Zinnel's PSI reflected six 2006 convictions for third-degree burglary in Iowa—four of which were classified as person felonies for sentencing in Kansas. At sentencing the district court determined that Zinnel had a criminal-history score of A. Zinnel did no... More...

$0 (03-30-2018 - KS)


Phyllis N. Gregory v. Creekstone Farms Premium Beef, L.L.C.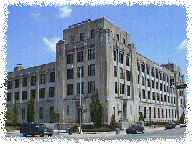 District of Kansas Federal Courthouse - Wichita, Kansas
This appeal involves an award of summary judgment to the defendant
on claims involving premises liability. For these claims, the defendant had
only limited duties for dangers that are considered "open and obvious."
This limitation lies at the center of this appeal: The victim was killed by
cattle, and the danger from cattle is ordinarily open and obvious. Here,
though, the catt... More...

$0 (03-29-2018 - KS)


STATE OF KANSAS v. DON CHARLES BALL
The charges against Ball arose out of his handling of funds belonging to Richard White III. Richard had suffered a severe head injury in 1979 that left him with diminished mental capacity.

In 1992, Richard was placed in an adult group home operated by Tri-Ko, Inc. Originally, Richard's parents were named as guardians and conservators for him, but after both parents had died, Richard's ... More...

$0 (03-29-2018 - KS)


STATE OF KANSAS v. RONALD E. HESKETT
The facts of this case were disputed at trial—except for one important fact. Both parties agreed that on September 12, 2014, Heskett purposely killed Moulton. The State's theory: Heskett murdered Moulton to cover up the fact that Heskett stole Moulton's money. The defense theory: Heskett ended Moulton's life at Moulton's suicidal insistence.

Moulton, who was 65 years old at the time ... More...

$0 (03-29-2018 - KS)


STATE OF KANSAS v. CHELSEA A. ROGERS
Chelsea A. Rogers appeals her sentence following her no-contest plea to one count of abuse of a child. She claims the district court erred in releasing the State from its obligation under the plea agreement when she originally failed to appear at sentencing because, according to Rogers, the failure-to-appear clause in her plea agreement was unconscionable. She also claims the district court failed... More...

$0 (03-27-2018 - KS)


STATE OF KANSAS v. TAYLOR ARNETT
On January 8, 2013, Taylor Arnett lent her mother's car to Joseph Stroble and Brandon Bryant so the two could break into houses. Allegedly, Stroble and Bryant then burglarized two different houses, damaging one in the process, and stole over $50,000 worth of property. Stroble returned the car to Arnett later that evening and gave her $200.

Arnett pleaded guilty to conspiracy to commit ... More...

$0 (03-27-2018 - KS)


STATE OF KANSAS v. JERRY A. ANDERSON
The facts leading up to the search and the results of the search are set out in our prior opinion, State v. Anderson, No. 116,140, 2017 WL 1297998, at *1 (Kan. App. 2017) (unpublished opinion) (Anderson I), and we repeat them here:

"The State's complaint against Jerry A. Anderson charged him with aggravated (armed) robbery of a Loan Max store in Hutchinson, Kansas. The security video f... More...

$0 (03-23-2018 - KS)


STATE OF KANSAS v. DARIEN IMANI JESTER
Darien Jester appeals the district court's decision revoking his probation and ordering him to serve his underlying prison sentence. Jester contends the district court should have given him another chance at probation rather than send him to prison. But Jester was charged and convicted of a new offense while on probation, and that gave the district court the discretion to send him to prison. We f... More...

$0 (03-22-2018 - KS)


STATE OF KANSAS v. RICARDO BERUMEN
The facts of this case are undisputed and the parties stipulated to the following at the bench trial conducted by the district court:

"On December 17, 2013 at 2143 hours, Sedgwick County Emergency Dispatch advised of an accident that occurred in the area of 5700 E. Pawnee. Dispatch advised that the accident involved a single car rollover accident where at least one occupant was eject... More...

$0 (03-22-2018 - KS)


STATE OF KANSAS v. SLY MAPLES
Sly Maples was tried for abuse of a child and felony murder. He was convicted of abuse of a child and sentenced to 136 months' prison based on a criminal history score of A. These charges stem from incidents that occurred between January 19, 2015, and January 20, 2015, that ultimately lead to the death of A.D.

On January 19, 2015, Maples choked and shook A.D. causing severe bruising a... More...

$0 (03-21-2018 - KS)


STATE OF KANSAS v. GLENN RUSCH, JR.
Following a jury trial, Glenn Rusch, Jr. was found guilty of aggravated arson resulting in a substantial risk of bodily harm, which made the offense a severity level 3 person felony. The district court granted a downward durational departure and imposed a prison sentence of 71 months. Rusch appeals his conviction. He argues the State failed to prove the element that elevates aggravated arson to a... More...

$0 (03-21-2018 - KS)


STATE OF KANSAS v. PABLO ALBERTO GONZALEZ
The facts are mostly undisputed, except whether Gonzalez knew his gun was loaded as events unfolded.

Gonzalez and his friends—Levi (the victim), Bailey Bishop (Levi's sister; Gonzalez' girlfriend), Jeff Swisher (Levi's step-brother), and Zachary Cashman— attended various New Year's Eve parties. At some point, the four men wanted to return to the first party and Gonzalez drove them. Cash... More...

$0 (03-21-2018 - KS)


STATE OF KANSAS v. ROY D. WETRICH
Morelaw Internet Marketing for Legal Professionals
MoreLaw Can Make Your Phone Ring
888-354-4529
For acts committed between January 1, 2009 and April 24, 2009, Wetrich was convicted by a Johnson County jury of kidnapping, two counts of aggravated assault, criminal possession of a firearm, possession of marijuana, violation of a protective order, domestic battery, and intimidation of a witness. The district court sentenced Wetrich to a controlling sentence of 124 months in prison, based on a c... More...

$0 (03-20-2018 - KS)


STATE OF KANSAS v. TANNER WARD
Sex Offender
In January 2016, M.C., who was 14-years old, lived with her mother. In the month leading up to January 2016, Ward, who was 22-years old, would sometimes work on his car at M.C.'s house with her sister's boyfriend. M.C. and Ward began a relationship, which M.C. hid from her mother.

At the time, Ward lived with M.C.'s older sister and her sister's boyfriend. M.C.'s mother did not know War... More...

$0 (03-20-2018 - KS)


STATE OF KANSAS v. LAKEICE MECOLE DAVIS
On April 16, 2013, the State charged Davis with two counts of aggravated burglary, a severity level 5 person felony in violation of K.S.A. 2012 Supp. 21-5807(b), and two counts of theft, a severity level 9 nonperson felony in violation of K.S.A. 2012 Supp. 21-5801. Davis and the State entered into a plea agreement. In relevant part, Davis agreed to plead guilty to one count of aggravated burglary ... More...

$0 (03-20-2018 - KS)