Iowa Failure to Warn Law
DAVID LEE FELTY v. STATE OF ARKANSAS
On May 5, 2016, Felty timely filed in the trial court a verified pro se petition for
postconviction relief pursuant to Arkansas Rule of Criminal Procedure 37.1 (2015). Felty's
petition did not comply with the requirements of Rule 37.1(b), which provides that a
petition under Rule 37 must meet certain procedural requirements, including limits on the
width of margins, the number... More...

$0 (01-07-2017 - IA)


  STATE OF IOWA vs. PATRICK JOHN LETSCHER
On August 28, 2013, the Forest City Police Department took Patrick Letscher and another person into custody and filed a complaint accusing them of stealing a pickup truck. A magistrate set bail at $2000, cash only. Two days later, Letscher posted the bail with the clerk of court. He also signed a form entitled, "APPEARANCE BOND - WAIVER OF ARRAIGNMENT – AUTHORIZATION OF PLEAS OF GUILTY," ostens... More...

$0 (12-31-2016 - IA)


STATE OF IOWA vs. GLORIA J. OVERSTREET center>
On May 19, 2013, Heather Davis, a child protection worker from the Iowa
Department of Human Services (DHS), went to the home of Gloria Overstreet
and her son, Ricky Overstreet, to investigate an anonymous call received about
Ricky's daughter, T.O., in which the source reported T.O. was being physically
abused by Ricky and Gloria and was receiving inadequate food and clothing. ... More...

$0 (12-23-2016 - IA)


STATE OF IOWA vs. TRACY ADAM THOMPSON center>
In July 2015, Thompson was charged by trial information with domestic
abuse assault causing bodily injury.
On September 29, 2015 Thompson signed a written guilty plea. The plea
included an agreement that Thompson would be sentenced to two years'
incarceration, with all but 220 days suspended, and he would receive credit for
time already served. Additionally, he would re... More...

$0 (12-23-2016 - IA)


STATE OF IOWA vs. RICKY L. OVERSTREET center>
On May 19, 2013, Heather Davis, a child protection worker from the Iowa
Department of Human Services (DHS), went to the home of Gloria Overstreet
and her son, Ricky Overstreet, to investigate an anonymous call received about
Ricky's daughter, T.O., in which the source reported T.O. was being physically
abused by Ricky and Gloria and was receiving inadequate food and clothing. ... More...

$0 (12-23-2016 - IA)


STATE OF IOWA vs. JERRY WAYNE CUNNINGHAM JR center>
The district court found Jerry Cunningham Jr. guilty of possession of
methamphetamine, second offense. On appeal, Cunningham challenges (1) the
court's denial of his motion to dismiss the prosecution based on a speedy trial
violation and (2) the court's denial of his motion to suppress evidence arguably
gained pursuant to a statutory nurse-patient privilege.
I. Dismiss... More...

$0 (12-23-2016 - IA)


STATE OF IOWA vs. KEVIN EUGENE JOHNSON center>
The State charged defendant Kevin Johnson with Count 1: burglary in the
third degree of a Family Dollar store on March 17, 2014; Count 2: burglary in the
third degree of a Jehovah's Witness Church on March 17, 2014; Count 3:
burglary in the third degree of the L & K Laundry on January 24, 2014; Count 4:
theft in the first degree for property taken at the L & K Laundry; and Coun... More...

$0 (12-23-2016 - IA)


STATE OF IOWA vs. JAYDEN RAY CHAPMAN
The facts as presented at trial reflect that in the early morning hours of
March 10, 2014, Michael Schenk, Jayden Chapman, and Erika Dains met, used
methamphetamine, and rode in Schenk's blue extended-cab truck to a farm
belonging to Marvin Huelsing with the intent to steal scrap metal. Dains testified
that while they were driving around the farm property collecting various it... More...

$0 (12-21-2016 - IA)


CASEY LEE PINEGAR vs. STATE OF IOWA center>
Pinegar first alleges his trial counsel was ineffective for failing to produce
Christine Chase to testify at trial on Pinegar's behalf and appellate counsel was
ineffective for failing to claim the same on appeal. In the case underlying
Pinegar's PCR application, Pinegar was convicted following a jury trial of delivery
of methamphetamine. See Pinegar, 2013 WL 5229766, at *1. ... More...

$0 (12-21-2016 - IA)


DAVID DESHAWN BRADFORD vs. STATE OF IOWA center>
David Bradford filed a postconviction relief application, raising several
challenges to his 2005 conviction for possession of a controlled substance with
intent to deliver (second offense and as a habitual offender).1 The controlled
substance was discovered following the stop of a vehicle Bradford was driving.
The drug was located in the book bag of a woman in the front passe... More...

$0 (12-21-2016 - IA)


STATE OF IOWA vs. CHRISTOPHER RYAN ALLEN
In August 2013, police executed a search warrant at Allen's home in
Waterloo, Iowa. During the search, officers found several rocks of crack cocaine,
cash, a digital scale, and plastic sandwich bags with the corners removed.
Officers then obtained a search warrant to search the apartment of a woman
identified as Allen's girlfriend. In the apartment they found receipts and ti... More...

$0 (12-21-2016 - IA)


STATE OF IOWA vs. DENNIS BROUSE
This court already established the background facts relevant to this case
in Brouse's prior appeal:
In 2007 the Iowa legislature enacted the Iowa Film, Television, and Video Project Promotion Program (Film Program). The Film Program was created to bring filmmakers and television producers from other locations to Iowa with the hope they would spend money in Iowa and grow the economy. T... More...

$0 (12-21-2016 - IA)


JAMIE LEE COLE vs. STATE OF IOWA
Jamie Lee Cole appeals the denial of his application for postconviction
relief. In his application, Cole raised two separate claims of ineffective
assistance of counsel: the first related to his guilty plea to assault with intent to
commit sexual abuse in 2004 (FECR 0055913); and the second related to his
guilty plea to domestic abuse assault with injury in 2012 (SRCR 008538)... More...

$0 (12-21-2016 - IA)


STATE OF IOWA vs. NAPOLEON MBONYUNKIZA
Sex Offender
D.B., a mentally and physically incapacitated woman living at a Des
Moines-area group home, was treated at Mercy Hospital for weight loss, gagging,
and digestive issues. It was discovered D.B. was twenty weeks pregnant. The
pregnancy was terminated per the direction of D.B.'s guardian. Police sought
DNA samples of all males with access to D.B., including Mbonyunkiza, a
... More...

$0 (12-21-2016 - IA)


STATE OF IOWA vs. TRAVIS NOLE TRUSTIN
Travis Trustin pled guilty to introducing contraband into a jail in violation of
Iowa Code section 719.7(3)(a) (2015). On appeal, Trustin contends the district
court (1) failed to advise him of a drug abuse resistance education (DARE)
surcharge or a thirty-five percent surcharge and (2) failed to advise him that he
had the right to use compulsory process in securing the attend... More...

$0 (12-01-2016 - IA)


STATE OF IOWA vs. THOMAS EDWARD JENKINS SR
Thomas Jenkins appeals the sentence imposed following this court's prior
decision that vacated his sentence and remanded the matter for resentencing.
See State v. Jenkins, No. 15-0589, 2015 WL 8367810, at *3-6 (Iowa Ct. App.
Dec. 9, 2015). He contends in this appeal the district court abused its discretion
at resentencing by not considering mitigating factors and that it "twi... More...

$0 (12-01-2016 - IA)


STATE OF IOWA vs. LANDON MICHAEL RILEY
Landon Riley appeals from his convictions and sentences, following the
entry of an Alford plea, for two counts of willful injury causing bodily injury. Riley
maintains his trial counsel provided ineffective assistance by allowing him to
plead guilty without a factual basis and then failing to file a motion in arrest of
judgment. He also maintains the district court abused its... More...

$0 (12-01-2016 - IA)


  STATE OF IOWA vs. PAUL ANTHONY SPURGIN
The State filed complaints against Paul Spurgin accusing him of
committing several crimes in Monroe County. The Monroe County Attorney
moved to disqualify himself because he had represented Spurgin in civil matters,
was representing Spurgin's father in "present pending matters," and had
represented Spurgin's brother in "the recent past." The district court granted the
mo... More...

$0 (12-01-2016 - IA)


AURELIO JAVIER ORTIZ vs. STATE OF IOWA
On November 25, 2012, Des Moines police officer Todd Wilshusen was
on duty when he observed a vehicle without a front license plate. Officer
Wilshusen initiated a traffic stop. While speaking with the driver, Ortiz,
Wilshusen identified the smell of marijuana coming from inside the vehicle.
Wilshusen asked Ortiz where the marijuana was, and Ortiz responded the
occupants... More...

$0 (12-01-2016 - IA)


STATE OF IOWA vs. KEVIN BROWN
Kevin Brown appeals from his conviction, following a guilty plea, for
operating while intoxicated. Brown maintains his trial counsel was ineffective for
allowing him to plead guilty without the district court making express findings the
plea was knowing and voluntary. Brown has the burden to establish both that his
trial counsel failed to perform an essential duty and that th... More...

$0 (12-01-2016 - IA)


STATE OF IOWA vs. PHILLIP EUGENE MARAS
Sex Offender
The State charged Maras with first-degree harassment. See Iowa Code
§ 708.7(2)(a) (2015). "A person commits harassment in the first degree when the
person commits harassment involving a threat to commit a forcible felony . . . ."
Id. The State asserted the underlying forcible felony was a "threat to commit
second-degree sex abuse on a twelve-year-old child. See id. §§ 708.... More...

$0 (11-30-2016 - IA)


ANTONIO RAY MOORE vs. STATE OF IOWA
On April 4, 2013, Moore was charged with theft in the second degree, in
violation of Iowa Code sections 714.1(1) and 714.2(2) (2011), and third-degree
burglary, in violation of section 713.6A(2). In June 2013, Moore was charged
with possession of a firearm by a person previously convicted of domestic abuse,
in violation of section 724.26(2), and an additional charge of second-... More...

$0 (11-30-2016 - IA)


STATE OF IOWA vs. WALTER BAYLOR
Walter Baylor appeals following his guilty plea to possession of marijuana
with intent to deliver, enhanced as a habitual offender. He claims his
constitutional rights were violated when the court did not inquire and appoint new
counsel during his sentencing hearing when he "vaguely complain[ed] of a
breakdown in communication" with counsel. He further claims the court abused... More...

$0 (11-30-2016 - IA)


STATE OF IOWA vs. BETTY ANN NALL
Nall was involved in a "Secret Shopper scam off the internet." Nall
received money orders in the mail, cashed them, and returned most of the
money while keeping a portion for herself. Nall knew the scam was fraudulent.
FECR268329. In July 2013, Nall received a money order for $890, which
she knew was not legitimate, and she took it to a veterinarian's clinic where she
... More...

$0 (11-30-2016 - IA)


STATE OF IOWA vs. ERIC GENE THOMPSON
Eric Thompson pleaded guilty to felony eluding and operating while
intoxicated, second offense. In this appeal, Thompson challenges his
convictions, contending his plea was not intelligently made and this matter must
be remanded because the district court failed to advise him of the surcharges to
be imposed for each offense. We affirm the defendant's convictions.
Iowa Ru... More...

$0 (11-30-2016 - IA)


United States of America v. Damarcus Laron Liddell
Davenport, IA - Davenport Man Sentenced to Prison for Making False Statements to the Social Security Administration

Damarcus Laron Liddell, 29, of Davenport, Iowa, was sentenced to 18 months in prison for failure to disclose information to the Social Security Administration (SSA) and false statements to the SSA, each count to run concurrently. Liddell was ordered to serve three years of ... More...

$0 (11-17-2016 - IA)


United States of America v. Gerhard L. Felts a/k/a Gary Felts d/b/a Black Diamond Kennel

The Consequences Of Lying To Federal Agents
by
Kent Morlan
Cedar Rapids, IA - Black Diamond Dog Kennel Owner Sentenced For Making False Statements

A northwest Iowa man who owed a monetary penalty to the United States for numerous violations of animal welfare regulations at his kennel was sentenced to 3 years' probation for lying to the government about his assets and income.

Gerhard ("Gary") Felts, age 61, from Kingsley, Iowa, was senten... More...

$0 (11-09-2016 - IA)


MEHO IBRAHIMOVIC vs. STATE OF IOWA
Meho Ibrahimovic sought postconviction relief following his multiple convictions for possession of stolen property. He claimed he received constitutionally ineffective assistance of counsel when his counsel failed to advise him of the immigration consequences of his guilty pleas. Ibrahimovic moved for summary disposition on his claim, contending prejudice should be presumed from the breach ... More...

$0 (10-28-2016 - IA)


STATE OF IOWA vs. CLYDE ARRINGTON
Arrington challenges his conviction on appeal, arguing his trial counsel was ineffective in allowing him to plead guilty without a factual basis. Arrington failed to file a motion in arrest of judgment, which bars the direct appeal of his conviction unless the failure resulted from ineffective assistance of counsel. See State v. Straw, 709 N.W.2d 128, 132-33 (Iowa 2006). To succeed on a ... More...

$0 (10-28-2016 - IA)


STATE OF IOWA vs. LINDA MARIE LAU
"Although claims of ineffective assistance of counsel are generally preserved for postconviction relief hearings, we will consider such claims on direct appeal where the record is adequate." State v. Lopez, 872 N.W.2d 159, 169 (Iowa 2015) (citation omitted). The record here is sufficient to reach Lau's claim challenging her counsel's performance, and our review of her claim is de novo. See... More...

$0 (10-28-2016 - IA)


STATE OF IOWA vs. ALEXANDER CAES
Alexander Caes challenges his guilty plea and sentence for possession of pseudoephedrine with the intent that it be used to manufacture methamphetamine. Caes alleges defense counsel was ineffective in failing to explain the terms of the plea agreement and failing to file a motion in arrest of judgment. Because the information conveyed in the written plea agreement and plea-hearing colloquy ... More...

$0 (10-28-2016 - IA)


STATE OF IOWA vs. SCOTT CARTER WELLS
Scott Wells was charged with five counts of possession of a controlled substance. The charges arose out of two separate incidents in which police officers found Wells in possession of controlled substances. The charges were filed in separate trial informations and docketed with separate case numbers. Ultimately, the cases were resolved at the same time when Wells pleaded guilty in one case... More...

$0 (10-28-2016 - IA)


STATE OF IOWA vs. NICHOLAS S. BLAUFUSS
.
D.J. was twelve years old in August 2014 when her family fell on hard times. Her mother suffered a series of strokes and lost her job at the convenience store. Her stepfather could not afford the contract payments on their house with just his earnings, so the parents, D.J., and her two younger stepbrothers moved in with family friend Donald Chipman in Burlington. Chipman's house had three ... More...

$0 (10-28-2016 - IA)


STATE OF IOWA vs. JONATHAN LEE SHUTT
In the early morning hours of August 27, 2014, law enforcement received a report of a break-in at a residence in Fort Dodge. A blood sample was collected from the scene by Officer Kleppe and submitted to the Iowa Division of Criminal Investigations (DCI) laboratory for possible DNA analysis. The sample was analyzed by DCI Criminalist Tara Scott—and the results were memorialized in a report ... More...

$0 (10-28-2016 - IA)


STATE OF IOWA vs. JOSEPH WILLIAM RENDON
On September 24, 2014, Thomas Dean hosted an illegal high-stakes poker game in an outbuilding at his home on 86th Street in Johnston. Rendon had previously attended a poker tournament at Dean's home and knew there would be a large amount of cash at the game. At about 1:30 a.m. on September 25, four men—Garvis Thompson, Arthur Benson, Jacari Benson (Jacari), and David Moore—came into the out... More...

$0 (10-28-2016 - IA)


STATE OF IOWA vs. TYRONE R. WASHINGTON, JR.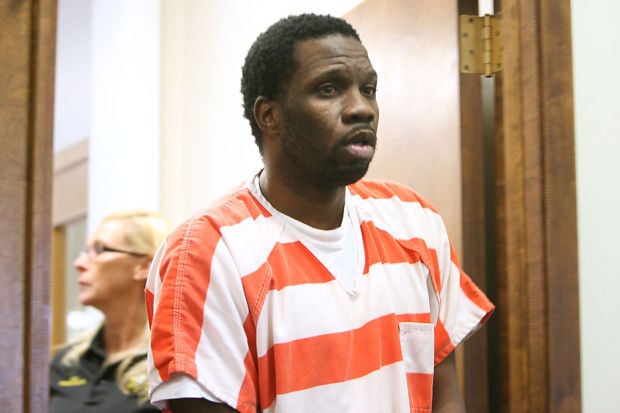 On August 19, 2013, Washington was charged by trial information with murder in the first degree in the death of Justina Smith. Washington entered a plea of not guilty and gave notice he would claim self-defense. The trial was initially set to begin on May 12, 2015. On May 5, 2015, Washington filed a motion to strike the jury panel, arguing there was "a material departure from the statutory... More...

$0 (10-27-2016 - IA)


STATE OF IOWA vs. ROGER JAMES CHESHIRE
Roger Cheshire appeals his convictions and special sentence following his guilty pleas to the offenses of lascivious conduct with a minor and indecent exposure. He contends the special sentence imposed by the district court was illegal and his trial counsel was ineffective in failing to file a motion in arrest of judgment because his guilty plea to the offense of lascivious conduct with a mi... More...

$0 (10-27-2016 - IA)


STATE OF IOWA vs. JOHNNIE RAY STEIGER
Johnnie Steiger appeals two judgments for indecent exposure (third or subsequent offense). The first was entered following a bench trial. At the conclusion of trial, Steiger stipulated to two prior convictions for sentencing enhancement purposes. The second judgment was entered in connection with a guilty plea. At the end of the guilty-plea proceeding, Steiger acknowledged his stipulation... More...

$0 (10-27-2016 - IA)


STATE OF IOWA vs. DELANDRES THOMPSON
On October 17, 2014, around 12:45 a.m., a tow-truck driver in the area of Sturdevant and River Drive in Davenport observed a silver Pontiac Grand Prix drive by at a high rate of speed; he also heard two or three shots go off from the vehicle. Davenport Police Officer Donnie Pridemore was investigating a hit-and run accident when he saw the silver Grand Prix and also heard a popping sound. As... More...

$0 (10-27-2016 - IA)


STATE OF IOWA vs. ALFRED KAKKI ANITOK
Alfred Anitok appeals his conviction and sentence after pleading guilty to incest. He contends his trial counsel was ineffective in failing to file a motion in arrest of judgment because he was not advised of the maximum penalty for the crime to which he pled guilty and, therefore, his guilty plea was not knowing and voluntary. Having shown no prejudice, we reject Anitok's ineffective-assist... More...

$0 (10-27-2016 - IA)